In a few days, I'll be back in the beautiful and the glamorous district of Monte-Carlo. B has a work thing to attend and I've decided to tag along. I did not expect to visit Monte-Carlo so soon after our trip last year but of course I'm thrilled at the thought of enjoying another getaway with my Darling so YAY!
Monte-Carlo
Before I get too excited however, I seriously think it's time I get off my extremely high procrastinating horse to conclude my Monaco 2012 travel talk, which I have been struggling to finish since last year. And due to lack of time, I'll be cramming all my remaining photos in this post!
So walking around Monte-Carlo on my own was exciting but of course not as fun as it would've been had B accompanied me. Work is work however so while B was attending his Sportel convention, I kept myself busy with souvenir shopping, taking photos of everything I saw and taking long walks while enjoying the breathtaking views of Monte-Carlo on the last two days of our stay.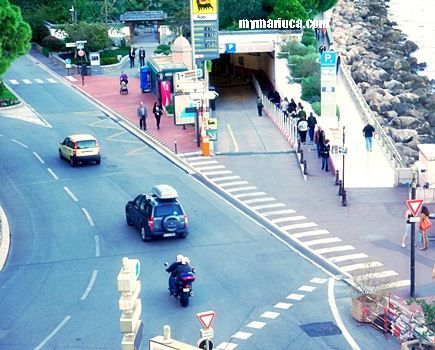 B's daily route to work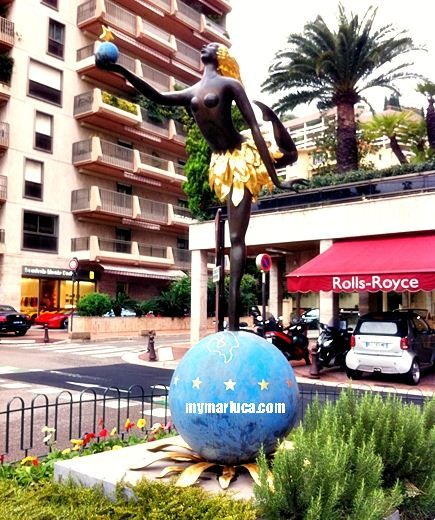 Somewhere near the beach!
I walked as far as I could, without straying too far from my hotel location.
Walk in the park
Tourists like me
Cactus Corner
As it is, my sense of direction had never been good so I tried my best to remember as many landmarks as I could in order to avoid getting lost. Obviously I can't remember all the details of my photos so if you spot one or two minus the caption, you know what that means!
Tourist Attraction
The one and only souvenir shop I visited
Casino Monte-Carlo, back view
The lovely Hotel de Paris
Below are some of the lovely winged-figures and carvings decorating the Casino complex.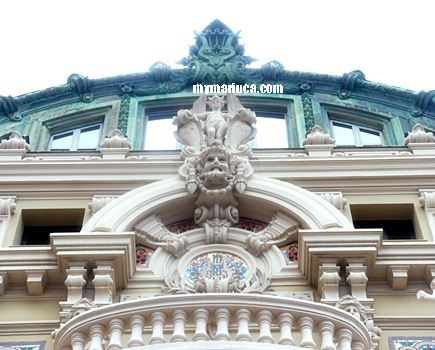 A little further from the casino complex, were more beautiful statues and sculptures.
Errrr .. Blue statue?
Reina Mariana by Spanish sculptor Manolo Valdés
La Ballerina by Italian artist Marco Lodola
Berlioz statue, Monte-Carlo central park
Crystal blue water fountain behind the Casino
Swimming Ducks!
Our last evening in Monte-Carlo saw me and my Darling taking a leisure after-dinner stroll to visit his friend and colleague; sports personality and TV3 presenter Bakar Atan. He was staying in Fairmont Hotel, which is located on the famous hairpin bend of Monaco's Grand Prix route. Unlike our hotel room in Hermitage, Fairmont Hotel provides coffee making facilities and a balcony with a view.
Fairmont Monte-Carlo
Forgot to take a photo of me here!
The only coffee I've been drinking in Monte-Carlo was from Mc Donald's, which though was the cheapest we could find, was still a tad pricey so I was happy to help myself to free coffee while B and his colleague caught up on sports talk and work.
B and B!
Me & Bakar Atan
After 2 cups of coffee for me and a Maggi Cup specially prepared by Bakar Atan for B, the three of us walked around Monte-Carlo for one final time. We could not help but exclaim in delight at our picturesque surroundings despite having seen most of the sights over the last few days.
Expensive shopping, this way!
Cartier
FRED Paris
Louis Vuitton
Heading back to Hermitage Hotel
Our walk ended at Hermitage Hotel and B and I returned Bakar Atan's hospitality by inviting him up to our hotel suite for a cold drink (no coffee-making facilities in my room) and pastry. The guys chatted while I went downstairs to the lobby to use the free Wi-Fi to check my emails and confirm my flight details to our next destination the following day.
Upstairs Lobby
Can you spot me?
I realized then that my time in Monte-Carlo was almost coming to an end and though a little wistful at having to leave this beautiful place, I was ready to enjoy the second part of our trip – Amsterdam!
Mariuca ♥ B at the world's most famous bend
On that note, I do believe it is time for me to end this post as well but not before thanking everyone who followed me on my Monte-Carlo moments here. It took me a year to conclude the Monaco 2012 travel segment on my blog so I thank you for your patience. And now, I can't wait to see what Monaco 2013 has in store for me!