When I returned to Hermitage Hotel from window shopping at La Metropole, B was still feeling under the weather. It was our second night in Monte-Carlo so despite feeling really lousy, my Darling braved his fever to take an evening stroll with me before dinner.
Fairmont Hairpin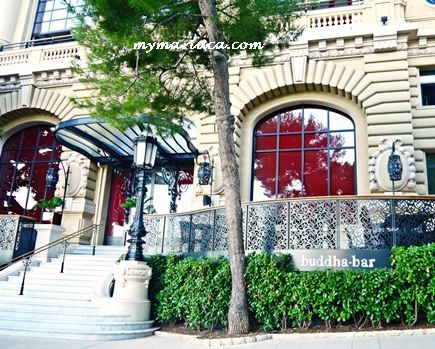 The exotic Buddha Bar
Billionaire Sunset Lounge
Monte-Carlo living
Due to my fear of heights, you may not see as many scenic sea shots as you would like. Every time I gathered enough courage to take a shot of the deep expansive sea below from way up above where I was, I got dizzy. My hands grew shaky and I end up with a major case of butterflies in my tummy; resulting in mostly blurry photos. I was afraid to lean too much over the railing to get a great shot; imagining my Lumix would somehow weigh me down and I'd end up falling down into the deep blue sea … forever lost!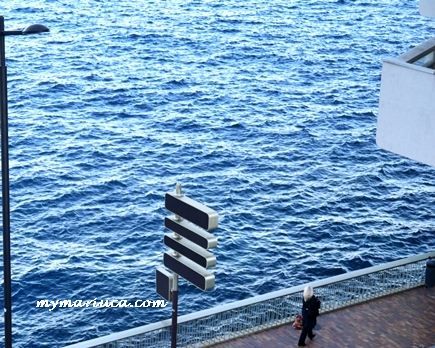 Deep Blue Sea
By the sea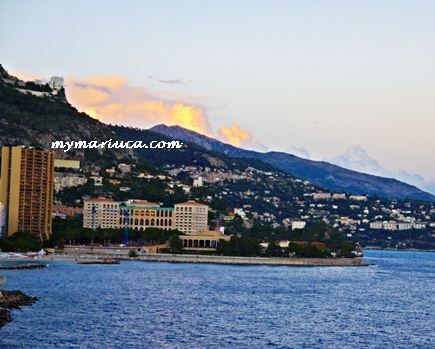 Sea view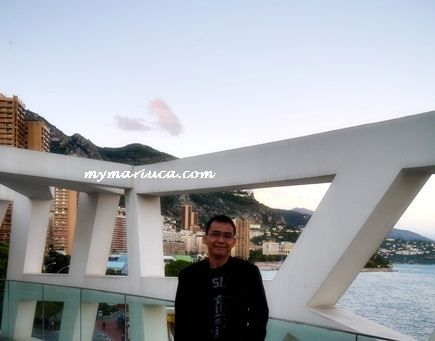 Sick in Monte-Carlo
Pretending not to fear the deep sea below!
Easy breezy in Monte-Carlo
Flying home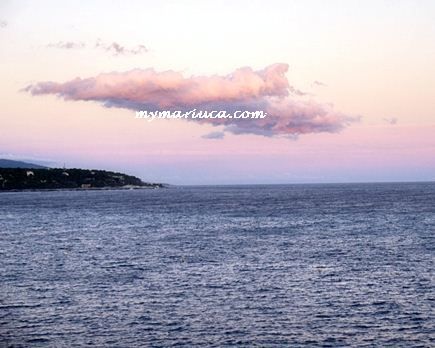 Evening sky
By the way, did you know that there are no airports in Monaco? Apparently, it only takes merely an hour to walk the width of this very tiny country so local flights are not required. There is a helipad however, which I think is pretty cool.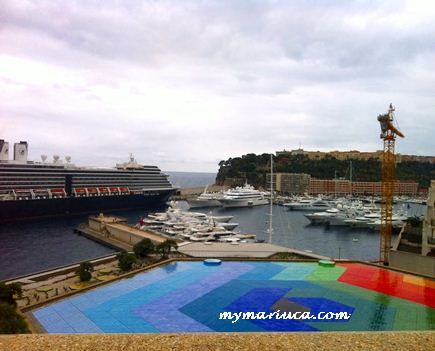 Helipad
Hermitage Hotel, where we stayed is a luxury resort hotel strategically located right smack in the middle of all the must-sees in Monte-Carlo. I took better day shots of our hotel surroundings the following day, which I will share next time. Tonight however, is all about my dinner date with B as we strolled hand in hand alongside other tourists who were out and about enjoying the breezy evening air as well.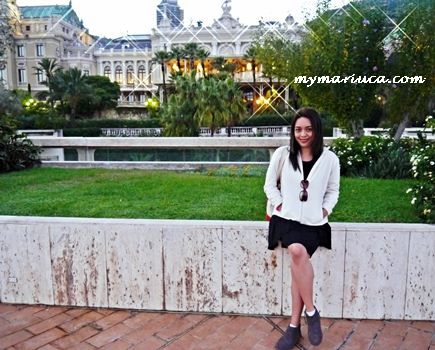 Evening in the Gardens
Adam and Eve
Somewhere near the Gardens
B in Monte-Carlo
We walked everywhere that night, which was great! We tend to do a lot of walking when on vacations and that's the only time I actually get a little exercise so I was actually enjoying my walk. Frankly, I can't remember most of the names of the buildings or structures that we took pictures of back then so if you see any photos with vague captions here, you know what that means!
Breezy eve in Monte-Carlo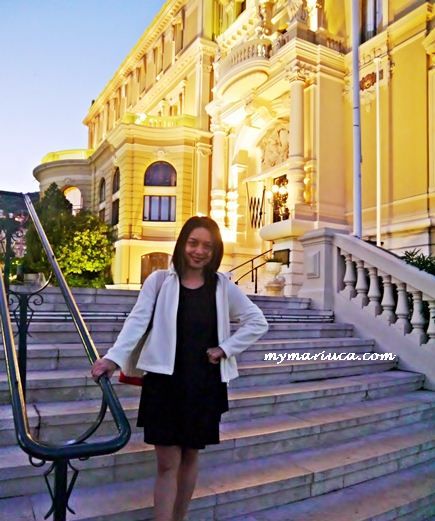 Where to next?
Lost in Monte-Carlo
In front of the adorable police station
Outside the casino
Casino de Monte-Carlo is always lively, day and night. As guests of Hermitage Hotel, we enjoyed free admission to this casino.
Casino de Monte-Carlo
Visitors are bound to notice the host of posh cars parked in front of the casino and just like me, plenty other tourists stopped to pose for pictures with some of the fancy wheels here.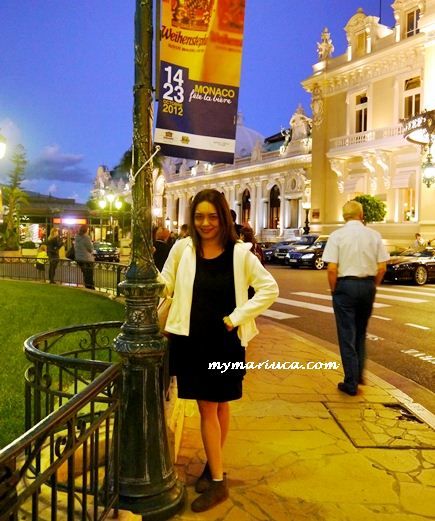 Mariuca in Monte-Carlo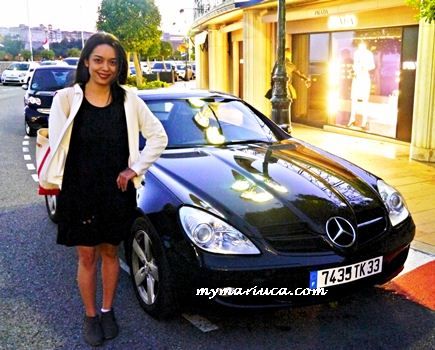 My ride!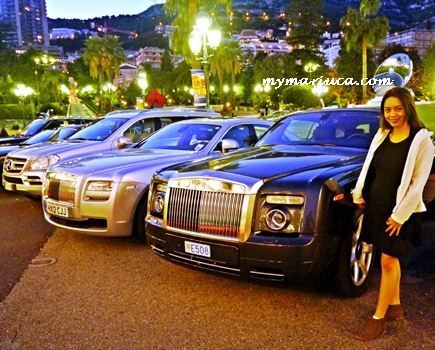 What's your pick?
After taking in a lot of interesting sights and braving the light night drizzle, we found ourselves seated inside a lively Latino restaurant. This place was one of the few restaurants still open for business. Food-wise, the menu seemed most promising so we
decided to have dinner at Le Bistroquet Restaurant & Bar.
Café de Paris Monte-Carlo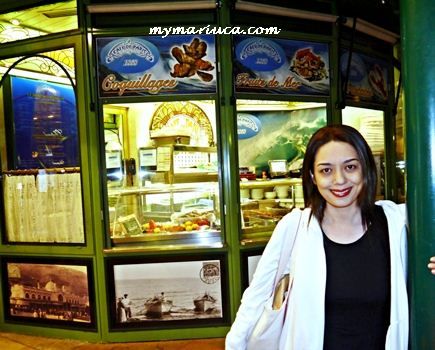 Ready to eat!
Located near the Casino Square, Le Bistroquet serves mostly Italian and French cuisine. Prices are supposed to be reasonable by Monte-Carlo standards and food is served until 4am, which is great for late-night hungry tourists like us.
Walking toward La Bistroquet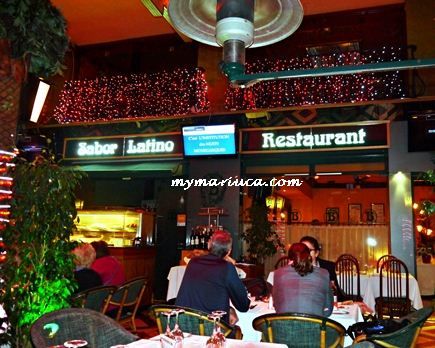 Dining out
Lively Latino theme
Monte-Carlo dinner





Cheers!
Warm bread and butter
For starters, we decided to share a bowl of gratinée à l'oignon or French Onion Soup.
Gratinée à l'oignon (€20)
Something soupy for B
Since B was ill and hasn't been eating well, we thought it would be a good idea for him to order something that was closest to Malaysian/Asian cooking - Wok de poulet aux petit legumes, sauce soja, which was Wok of chicken with vegetables and soya sauce. It was the only Asian-sounding dish on the menu so we were both anticipating something comforting and tasty.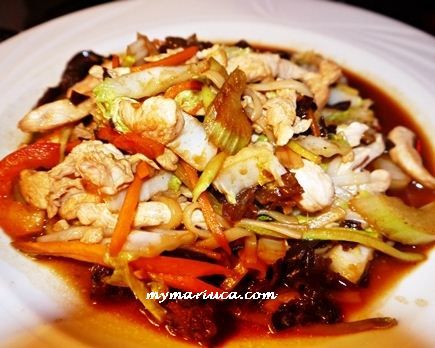 Wok de poulet aux petit legumes, sauce soja (€20)
I decided to play it safe with a choice of pasta and settled on Spaghetti aux Palourdes (€18) or Spaghetti with Fresh Clams. You can't go wrong with pasta … or so I thought!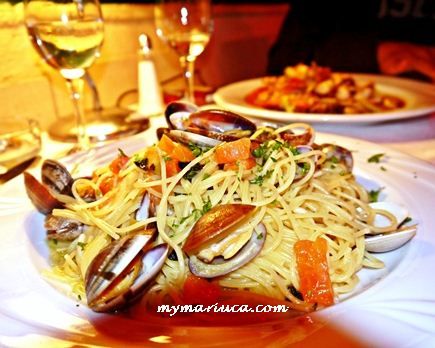 Spaghetti aux Palourdes (€18)
Smiling before tasting
Out of the three items ordered, only the French Onion Soup was to our liking. It wasn't outstanding or anything like that but it was good enough to keep us warm after a night of exploring a strange city in the rain.
I was shocked however to taste B's dish, which was really bland and seriously did not come close to what, an Asian like me would expect from a typical chicken + kicap + vege dish that I can easily cook at home. I gave it a 2 /10 while B gave it a 3/10. Sorry Le Bistroquet!
As for my pasta dish … well, you know how much I love pasta and I'm always keen to try out at least one pasta dish on my travels. This plate however was really disappointing. It was way too dry for my liking and once again bland. Perhaps this is the way food is mostly served in Monte-Carlo or maybe I should have ordered something else. Either way, the pasta lover in me would have definitely preferred more flavour and spices to my spaghetti. The oil-based drizzle of a sauce was just a tad and as much as I tried to enjoy it, I could only give a 4/10 for this selection of mine.
We honestly didn't mean to waste food but check out our leftovers!
B's plate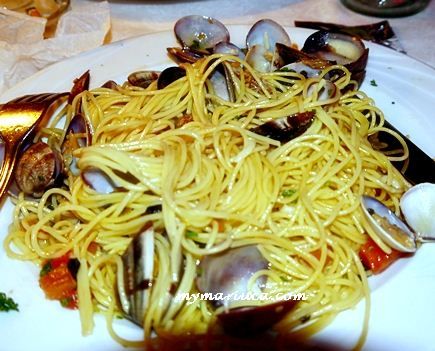 I mostly had the clams