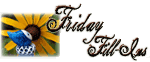 Now that I've gotten my frustration out of the way in my previous post, let's have some fun with my first

Friday Fill-In

post here shall we? I really enjoyed my first FFI at MPG last week, so I'm thinking maybe I should start posting

FFI

here as well. Come join me if you're interested. All you gotta do is fill in the blanks (

my answers are in lime green

) you see below and every week, it's a different set of questions. It's really so much fun, so here we go!

1. Apparently there's some sort of

confusion with the new EC Forum structure but then again what else is new?



2.

Today is a humid

sunny day.

3. 2009

has been promising

so far.

4.

It was all in the name of fun, nothing more and

that was it.

5. For too long I've been

dreaming about a much-needed vacation, when will that be?



6. I am not obsessed with

Adam Lambert

; I am not!

7. And as for the weekend, tonight I'm looking forward to

watching OIAM on 8TV

, tomorrow my plans include working on my new blog and Sunday, I want to

clean up my messy home

!