Bummer! After finally deciding to give Tesco Online shopping a try yesterday afternoon, I ended up at the check-out counter with much anticipation only to be let down because there were no available delivery slots for today!
B and I never did care much for Tesco all this while and we usually get our grocery shopping done at Giant, Cold Storage or Village Grocer. But after hearing rave reviews from BFF LJ about Tesco online shopping and home delivery service, I was of course enticed!
Frankly, I was expecting cluttered and disorganized online shopping at Tesco. I was however, pleasantly surprised at how simple it was to navigate through the site. The search feature also makes it easy to look for specific items.
My shopping List
I spent yesterday afternoon registering on-site; happily taking my time browsing through the promotions available, reading about the Tesco voucher codes to help you save more, and checking out the many different brands carried by this grocery market, which were not bad actually. In fact, certain items were priced lower compared to those available in the other supermarkets I mentioned earlier.
All in all, I was pleased with my Tesco online shopping experience and what I enjoyed most was the convenience of relaxed shopping in the comfort of my home-office. After selecting all 24 of my items, I was all set to check-out and make the final confirmation for my order. It was only then that I came across a section saying that delivery would depend on availability of slots and it is advisable to check for free slots prior to shopping … which I did not!
Apparently, the earliest available delivery slot is this weekend, which would be too late for me. My bad for not checking the delivery slots before happily shopping so I guess there will be no Tesco delivery guy arriving at my doorstep today!
Fully Booked!
Anyway we ended up doing our grocery shopping at our usual Village Grocer late yesterday evening and now I'm all set to cook for B's birthday dinner tonight. I'm planning to cook a main dish plus dessert and based on my ingredients below, can you guess what I'll be cooking?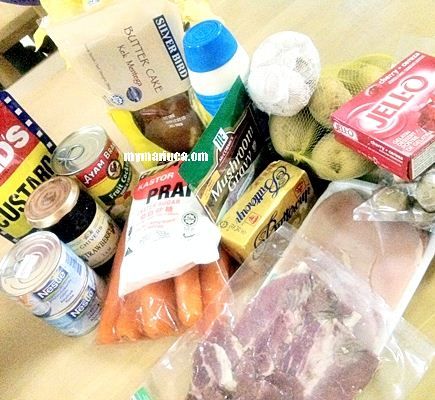 Inspire me Masterchef!
Wish me luck and Happy Birthday Love, ILY!

LADY JAVA