Hola! Just a short and sweet post to thank my

BFF Jean

who is currently MIA, for this awesome red hot

Over The Top Award

she presented me recently. Thank you very much for this lovely award
Jean
. You always have me in mind when it comes to awards and I love you for that!
A special thanks goes out to
Metz
as well who presented me with the same award.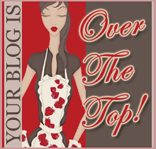 To receive this award your blog must be exceptional in design and content; presenting us with new knowledge, a sense of style, or at times just giving us a smile!


Each recipient of the award will acknowledge the person who honored them with the award and then go to http://overthetopaprons.blogspot.com to copy/paste the award : Your Blog is Over The Top. (located on the right sidebar, scroll down)

It is an honour for me to pass on this lovely award to some of my favourite bloggers I've encountered and befriended over my blogging years and they are in no particular order: Kim, Liza, Monica, Lainy, Twinks, Fida, Ane, Jean & Martin, Janice, Elai, Bing, LR, Grandy, Nessa, Star, Shemah, Emila, LJ, Debbie, ECL, Kimberly, Roxy, Mize, Rozella, Tina, Ruby & Erisha!