It's still light outside and I have accomplished quite a few things today! This is awesome simply because I am a night owl and usually, my day begins when the sun goes down. Today however, I've already checked many things off my to-do list including going to the salon to get my hair and nails done, shopping for a nice pair of heels, purchasing a few make-up items and toiletries, grocery shopping, finishing two loads of laundry and ironing a pile of clothes!


It has been a busy day so far for Mariuca

and it almost seems as though I am preparing for a vacation, ready to stay in some gorgeous apartments in Berlin or something. Unfortunately, that is not the case and I am merely getting ready for tomorrow's wedding function, which I am still 70-30 going since my Darling is now down with the flu.


I still had to get my hair done; buy shoes and make-up stuff today because this wedding is an important one for us so
B
is trying his best to recover from his flu by tomorrow. I doubt he'll be able to fully recover but we just need him to be feeling sufficiently okay to attend tomorrow's wedding reception so he's resting now.

There is still the matter of wedding gift and since tomorrow's groom happens to be B's best friend, we are still undecided on what to get him and his new wife. It has to be something extra special so do we go for the traditional wedding gifts of home décor, kitchenware stuff or should we present the newlyweds with an envelope of cash?


If we were really rich and loaded, I would definitely consider a nice mini getaway voucher as a wedding gift for close friends. Wouldn't it be great to receive a special holiday package in beautiful

Berlin

for instance? Imagine vacationing in Europe and luxuriating in beautiful Berlin apartments and everything is paid for by someone you love. I bet that would be the most memorable gift ever.

In fact, when
B
and I got hitched, we did receive a mini vacation package from a friend. It was to a local destination and it made a very nice wedding gift for us. There we were in a romantic resort, two lovebirds embracing the newly-discovered joy of wedded bliss with no expenses to pay for except for a little pocket money. Truly a wonderful wedding gift for any couple and you may want to consider as a wedding gift for your close friends next time.


Anyway, speaking of gifts, yesterday night I received not one, not two but three Christmas presents from one magical snowman that stealthily made his way into my room and quietly left three beautifully-wrapped gifts on my bed! I am going to wait till the 25th to open them up, although I already have a pretty good idea what's inside each pretty package!

TGIF and get well soon
B
!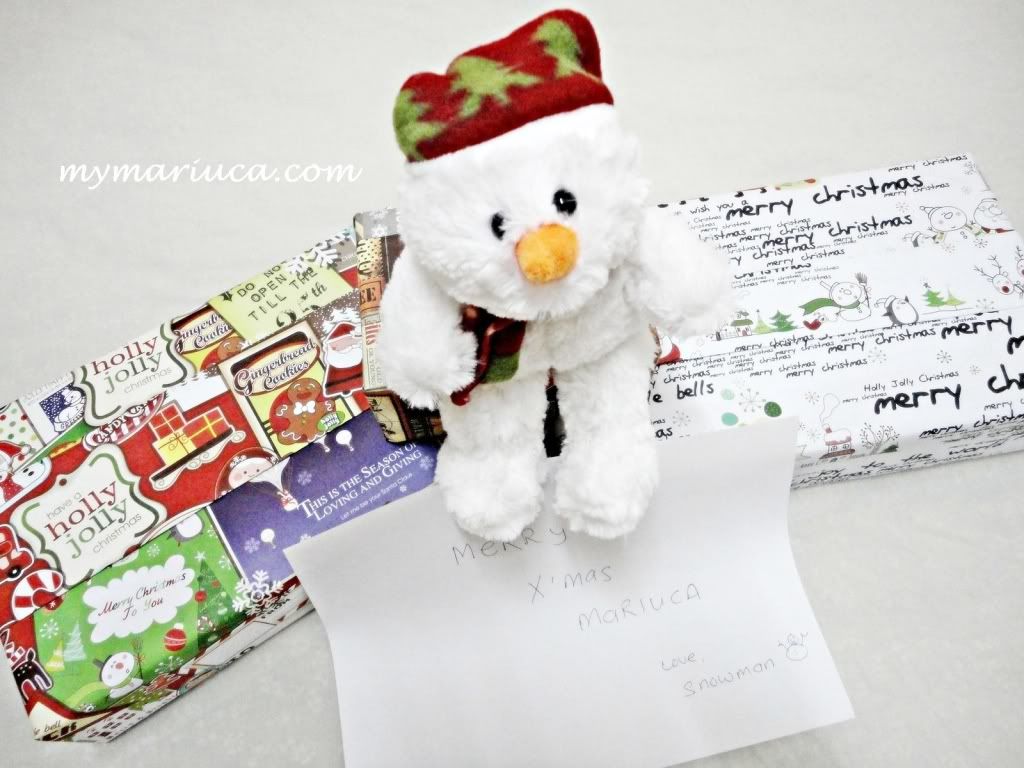 1 small box and 2 big boxes
Thank you magical Snowman!
-FC Scoreboard point for my FIRST commenter-

MONICA