In keeping with the Valentine mood that is totally taking over the blogosphere, I am going to show some love for all my friends by taking part in this very special

Valentine's Love Meme

created by my BFF Jean! Thank you so much for thinking of me with this one Jean and I surely wouldn't want to miss out on this special Valentine love tag YAY!


Since Jean has already tagged almost all my friends, I will tag those that have not been tagged by her okay? Also, please get the code for the corner banner from Jean's blog. As usual you know me and HTML, we don't jive that well so I couldn't get the banner code to appear on my post, however the love banner is proudly displayed at the top right corner of my blog as you can see, as per the rules of this meme!

Here goes!


Monica, Ane, Debbs, LR, Fida, Roxy, Kim, Liza, Kriscell, Twinks, Erisha, Tina, Tammy, Ruby, Speedcat, Dorothy and Blanne
!

HAPPY VALENTINE'S DAY

to all my friends, let's spread the love shall we?


1) Once you're tagged, install the corner banner at your blog as a third party html code. (The corner banner need to stay at your blog for at least 2 weeks).

2) Post about this meme,
Valentine's Love
.

3) Add your blog/s with link/s to the Valentine's Lovers list and leave a comment at this post
HERE
.

3) Tag all your special friends.

4) Please remember to update your list regularly so that you would not miss out anyone in your Valentine's Lovers list.

Corner Banner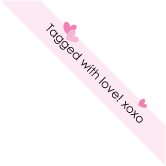 Valentine's Lovers
***end copy***
p/s: The wordings on this banner with automatically change to 'Tagged with Love! xoxo' on Feb 15.