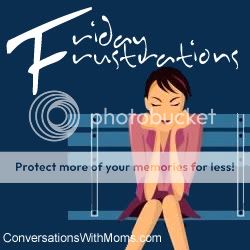 For the past few weeks, my blog world has been in total chaos thanks to me hearing about other bloggers bitching about my blogs (
behind my back
), followed by

JS

testing my patience with their new comment notification system, my

TwitterFox

not working, not being able to view my own blogs,

Twitter

and

CMF

since early yesterday and the last straw tonight when my cat Benji decided to go missing!


After all that, there's just no delaying or denying the fact that I am in need of a new meme to vent and release my frustrations so this is my very first time joining my Virgo buddy Ane in
Friday Frustrations
. Brought to you by

Maria

from
Conversations
with Moms

,
Friday Frustrations
is a wonderful outlet for me to release steam and vent to my heart's content without anybody saying anything about it because hey ... this is what the meme is all about!


The status of my current situation you ask? Well JS is still acting up (

unable to receive email notifications

) but at least I finally managed to fix my

TF

issue. After restoring Pinky to an earlier date TWICE and scanning my system for viruses
TWICE
, I am finally able to view my blogs again! Also, we managed to find

Benji

outside our condo unit (

Grrrrrr

) and he's been reprimanded for leaving home!


As for the so-called blog "friends" who decided it was necessary to take a stab at me and my blogs, I've gotten over that already too. My thoughts? Well, if you do not like my blogs, just leave me be and don't visit okay? Nobody is forcing you to visit, scrutinize and then bitch about my blogs so just move on whenever you see my badge. There is absolutely no need to waste both your time and mine if your sole purpose of visiting is to mock me and my shortcomings!


Okay, now that things are almost back to normal, I would like to end my first

Friday Frustrations

by thanking

Lady Java who spent hours with me trying to figure out what was wrong with my

TF

. And also to Debbs for sending me a sweet uplifting email when I was really down in the dumps yesterday.


Have a great weekend everybody! And perhaps I'll be back for
Friday Frustrations
next week. I'm not sure if I'm gonna make it a weekly affair but now, at least there's one appropriate meme for me to turn to whenever I feel the urge to bitch ... and vent.